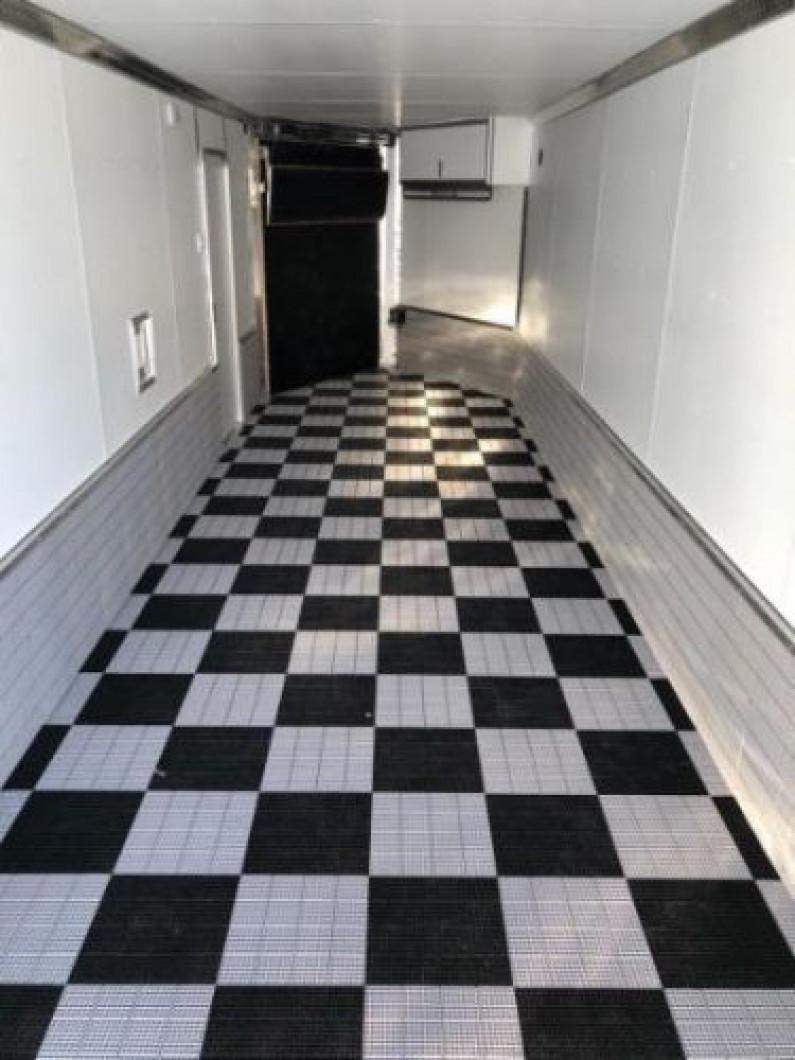 The leaves are starting to turn, and our favorite summer & fall pastimes are winding down. Cooler temperatures bring the anticipation of another winter motorsports season. As you begin to prepare for another excellent snowmobiling season, don't forget the importance of preparing your trailer to withstand the elements with durable weather-resistant flooring. Upgrading your flooring can be a small investment that can drastically increase the life of your snowmobile trailer.
Our Mateflex II tiles are an excellent choice for snowmobile trailer flooring because they feature a unique design that's durable, customizable, affordable, and easy to install and remove for cleaning if necessary. Prevent wear and tear to your investment by lining the floor of your trailer with Mateflex modular tiles.
Design
Mateflex II features an open square groove layout, allowing for proper drainage while still maintaining good topside traction, delaying the product from icing over and limiting slips. The open square layout allows good airflow through the tiles to allow snow to melt, water to evaporate, and will also aid in the drying process. The bottom side of the tile features 481 gusseted legs to support the upper grid. Additionally, the tiles are mold and mildew resistant, keeping your trailer's maintenance to a minimum throughout the season.
Durability
The Mateflex II tile is an ideal solution for enclosed trailer flooring or open trailer flooring, and they are versatile enough to be used year-round. It is made of high-impact polypropylene copolymer with state-of-the-art stabilizers to ensure it holds up under any climate or condition. The tiles feature a leaf spring type flex joint system to accommodate any fluctuations due to thermal expansion. It is rated to withstand static loading weights of 16,000 lbs./sq.ft. so it's strong enough to hold the load of your equipment.
Installation
Before installing Mateflex flooring, be sure to consider a waterproofing option on the wooden subfloor. We've seen alternatives such as spray-on liners, epoxy, water seal, and roofing liner to prevent water from sitting on the floor bed, causing rot. Do your research and consider your drainage and sealing options to keep the subfloor from retaining moisture.
After careful waterproofing of the subfloor, use Mateflex II to create an added layer of protection. Mateflex II modular tiles are an excellent solution for supreme durability, traction, and ease of installation. Mateflex II tiles stand up to the elements. Snow, ice, water, and dirt are no concern.
Mateflex modular flooring is also an easy install. Mateflex II features 6 expansion joints and 32 latch locks - 2 sides with 8 female parts and 2 sides with 8 male parts. The pieces of tile snap together to form the perfect floor for your snowmobile trailer flooring. Check out this YouTube Playlist for installation tips. Remember, measure twice and cut once.
Are you still wondering if Mateflex is the right choice for your project? Check out this video of our product in action featuring Snowmobile Hillclimb Racer Keith Curtis: https://www.youtube.com/watch?v=BiH9ESV57K8