Choose Matéflex for sure footing and reliable drainage in your marine flooring and dock flooring applications.
Marine Flooring
Let the raised support system and open-grid design of our HomeCourt, Matéflex II, and Matéflex III tiles keep you and your gear dry. Each modular tile option allows water to flow through, diverting it from the surface to provide a safer, cleaner, waterproof marine flooring that is mildew and mold resistant. HomeCourt and Matéflex II and Mateflex III tiles are also durable enough to withstand any climate and are available in a variety of designer colors.
So take advantage of marine and dock flooring systems from the original manufacturer of modular floors.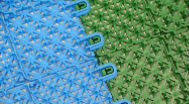 Underside provides drainage of liquids
Unique texture provides non-slip safety
Mold & Mildew Resistant