Matéflex offers excellent choices for your shower and locker room flooring needs. Matéflex's raised support system allows water to drain beneath the tile and keeps you up off the wet floor.
Locker Room Flooring
SoftFlex is a soft and durable tiling option that provides the ultimate comfort. With its anti-slip foot, it is ideal for locker room flooring. The PVC flooring can also be rolled-up to clean your locker room and shower floors with ease.
HomeCourt tough polypropylene material is made to withstand any environment and is perfect for locker room flooring applications and is an excellent choice for indoor or outdoor pool floors.
SoftFlex and HomeCourt are available in a variety of colors to add a distinctive look to your locker room space.
Do you use carpet in your locker room and struggle to keep it dry? CarpetFlex are raised modular carpet tiles that are designed to keep your carpet dry.
SoftFlex, HomeCourt, and CarpetFlex are all interlocking floor tiles, eliminating the need for a threshold, and each product is uniquely designed to suit any shower or locker room flooring project.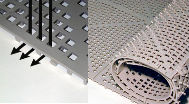 Quick & Easy Assembly
Full time anti-microbial material
Unique texture for safety and comfort