Finally! Enjoy the rich beauty of carpeting or vinyl flooring with the unique flexibility of modular tiles. Matéflex takes basement flooring to the next level in functionality.


Basement Flooring
TileFlex modular basement flooring marries luxury vinyl flooring with the versatility and strength of raised modular tiles that stand up to your basement flooring requirements. CarpetFlex provides a way to enjoy the rich beauty and warmth of carpeting with the unique flexibility and durability of modular floor tiles.
Each product is ideal for basement flooring, family rooms, or other casual living areas.
Both TileFlex and CarpetFlex can be applied as basement floor tiles because of their unique construction that allows for airflow and keeps the surface away from potential dampness and neither product is affected by moisture.
As great do-it-yourself basement floor tiles, both TileFlex and CarpetFlex add value and increased living space to your home.
For a dynamic decor option, combine both TileFlex and CarpetFlex, or mix and match any number of our array of color choices to lend your basement high-end style.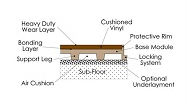 Provides a thermal break
Cushioned support system
Not affected by moisture