Fix your cracked, chipped, or oil-stained floor with Matéflex garage floor tiles and workshop flooring.
Garage Floor Tiles
Matéflex is designed to enhance the appearance, usability, and value of your garage or workshop by creating a brighter and warmer environment. Mateflex's interlocking garage floor tiles provide a solid industrial look and can be cleaned with a broom or leaf blower.
Our Matéflex II or III feature an open-grid design that is excellent for garage flooring as each allows snow, mud, dirt, and water to drain through and keep your vehicles and equipment clean. These tiles can be hosed off, cleaned with a shop vacuum, or pulled up and swept clean.
Each product can be installed in less than a day, conforms to minor base undulations, and includes a 15-year warranty.
Unlike epoxy coatings, Matéflex garage floor tiles can be driven on immediately after installation, while their workshop flooring tiles keep your equipment and tools high and dry.
As an added convenience, our open-grid garage flooring will not be damaged from moisture, oil, anti-freeze, or other harsh fluids. So protect your vehicles, tools, and yard equipment with Mateflex!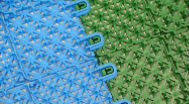 Not affected by moisture
Do-it-yourself installation
Lasts longer than epoxy floors