Matéflex's portable flooring is ideal for display flooring and trade show flooring to feature your best products no matter where you are.
DISPLAY FLOORING
The temporary nature and purpose of retail displays and exhibit booths pose a unique challenge. The necessity for ease of assembly and take down, overshadow the quality of image and atmosphere that is essential for attracting new customers and clients. With Matéflex modular tiles you are investing in a quality, attractive, and easily assembled and disassembled product to suit your trade show flooring needs.
From open-grid convenience of Matéflex II and Mateflex III tiles to the sophisticated style of our TileFlex and CarpetFlex products, Matéflex offers an array of durable, high performance display flooring options. Attractive and easy to assemble, our modular tiles are engineered to give you a cushioned surface that will keep you comfortable, while highlighting the best features of your product.
As the premier trade show flooring, Matéflex products bring the advantage of utility to any display area.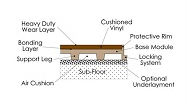 Quick installation time
Excellent durability
Floor portability