Tired of buying office flooring or retail flooring for your rented building? The modular design of Matéflex flooring will allow you to take your office or retail floors with you upon relocation!
Office Flooring
Matéflex recommends Carpetflex or TileFlex for your office flooring needs. Both do-it-yourself products allow for quick installation, while also offering excellent durability.
If you happen to move from your current location, Matéflex tiles are a portable flooring option that can be easily disassembled, transported, and re-installed to fit your new office flooring arrangement.
Get a Quote now and start planning for your new office or retail flooring project.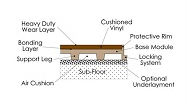 Quick installation time
Excellent durability
Floor portability