Tired of standing in a puddle of water? Matéflex modular decking is the solution to your indoor or outdoor pool deck resurfacing project. Matéflex's raised support system allows water to drain beneath the tile to keep your pool deck dry and safe.
Pool Deck Resurfacing
Our HomeCourt can be applied as modular deck tiles and is engineered as polypropylene flooring for a long service life in any climate. Its engineered flex joints and open-grid design make it an excellent choice for indoor or outdoor pool deck resurfacing.
SoftFlex is a unique solution that directly addresses the need for a flow-through drain tile. A super soft, yet extremely durable PVC formula provides the ultimate comfort. The lightly textured surface provides comfortable anti-slip footing for a variety of indoor modular decking applications.
Both products are available for installation in a variety of designer colors, making an attractive and distinctive design part of its appeal.
Whether it's HomeCourt or SoftFlex, both products are an excellent choice for both spa and pool deck resurfacing.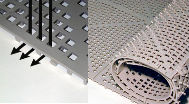 Quick & Easy Assembly
Full time anti-microbial material
Unique texture for safety and comfort