Matéflex's modular design offers the premier choice for event flooring. Every Matéflex product is modular in design and allows for quick and easy assembly and dis-assembly of your event or trade show floor.
EVENT FLOORING
Whether indoors or outdoors, Matéflex's modular design acts as an excellent choice for special event flooring and trade show flooring.
Choose CarpetFlex or TileFlex for durable, easy-to-install, and attractive modular tile for your booth and exposition area. Each is a portable flooring option that allows for easy transport.
Matéflex's event flooring products are available in a variety of colors to customize your trade show floor to fit your company's needs.
So stop throwing away money on trade show flooring rentals and invest with Matéflex event flooring.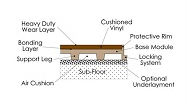 Quick installation time
Excellent durability
Floor portability