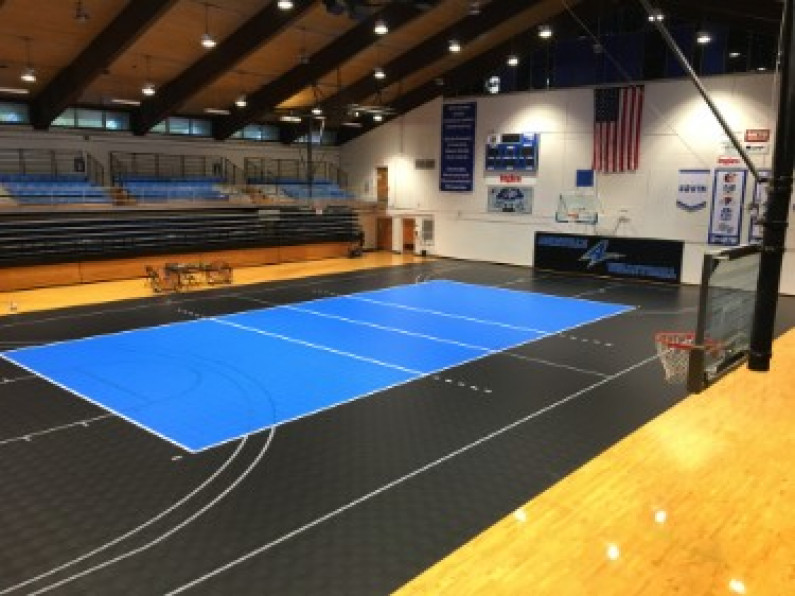 Which is better: a traditional wooden gym floor made from a beautiful hardwood like maple, or a more modern modular flooring made from a high impact polypropylene?
There are pros and cons to both options in terms of cost, installation, maintenance, uses and customization, and aesthetics; some of the similarities between the two might surprise you. If you want to make the wisest decision about what type of flooring your facility needs, it is important to know the details about both types.
Short Term and Long Term Costs
The first question that most people have about athletic flooring is the cost, and that includes both the initial cost and the long-term cost. The purchase and installation of flooring is a sizeable investment when materials and installation costs are accounted for; however, there is also the cost of continuing maintenance and upkeep. An initial investment in a modular tile floor is a fraction of the cost of traditional wood flooring and requires less time to install. In addition, the maintenance of modular tile is significantly less than that of traditional hardwood flooring. A modular floor can easily last up to 30 years with proper care and maintenance. Hardwood flooring, on the other hand, can last as long as the gym itself if it is cared for properly with an average life of 38 years. However, for hardwood flooring to last that long, it needs to be routinely refinished -- we'll get to this later.
Installation of Flooring
There are numerous challenges to be faced anytime flooring is being installed, whether it is modular flooring or traditional wood flooring. For example, traditional hardwood flooring has specific temperature and humidity conditions that must be maintained, so you must ensure that your facility's HVAC system can accommodate those requirements. Modular flooring can be installed in areas that have moisture problems as the material used and installation techniques are not impacted by moisture. When it comes to installation time, traditional wood flooring can take weeks to install properly. Modular flooring, on the other hand, can be installed in days because of the simplicity of its design. And here's something else you might not know about modular flooring: not unlike gym floor covers for traditional wood flooring (which we will discuss later on), modular flooring can be taken up and put away without any special tools. In essence, you can pack up the modular tiles and move them to another location. This is ideal for situations where space is rented or leased.
Proper Care and Maintenance
Traditional gym floors require quite a bit of care. For example, they not only need to be kept clean regularly but sanded to the bare wood and refinished about every two years. Care should be taken in the choice of cleaners to ensure that the finish is not damaged. Wooden gym floors must be wet cleaned and scrubbed on a regular basis because, over time, a slick film of salt and protein will build up due to sweat from the athletes. As for dust, the use of microfiber dust mops is often recommended. To enhance the appearance of these floors, regular polishing is needed unless the flooring has a matte finish.
Modular flooring also requires a regular routine of dust mopping and scrubbing to maintain its appearance similar to that of hardwood flooring, but never needs to be stripped and refinished.
To protect any gym floor from damage during non-athletic use, a gym floor cover is a must. It will significantly reduce wear and tear but requires its own maintenance, too. Gym floor covers need to be cleaned after each use. They can often be simply brushed off and spot-cleaned, but mild detergents can also be used as long as the cover is allowed to dry thoroughly before it is stored.
Uses and Customization
There are many uses for traditional wood flooring. While it is an excellent floor material for sports such as basketball, racquetball, and others, its appropriateness for non-sport purposes comes into question. For example, wood flooring can easily be marked or damaged by non-athletic shoe soles, which means that its use for non-sports activities (commencements, concerts, dances) would involve significant maintenance afterwards. It also offers poor acoustics, leads to major safety hazards if liquids are spilled on it, and is subject to scratching and gouging. However, those issues can all be mitigated through the wise use of a gym floor cover like those available from CoverSports.
Modular flooring, on the other hand, is known for its flexibility in terms of what it can be used for, including pickleball, floorball, handball, futsal, inline hockey, and indoor tennis. Another key factor in favor of modular flooring over traditional wood flooring in terms of use is the customization that is possible. The reaction of the flooring (e.g., how cushioned it is) can be adjusted through the use of a sheet rubber underlayment with various thicknesses depending on the amount of cushion desired. This type of customization is not available with traditional wood flooring.
And keep in mind that modular flooring isn't just for indoor courts, either. Take, for example, Mateflex III with its rugged design that can handle temperature changes without distortion and allow rainwater to flow through so that slip hazards are minimized.
Aesthetics
There is no denying that traditional hardwood gym floors are beautiful when they have been well maintained and cared for. While there are many different shades and finishes that the hardwood floors come in and logos and lettering can be hand-painted on, the options and ease of customization are no match for modular tiles. Multiple colored tiles can easily be used in a single installation, and this color penetrates all the way through each unit which means it can never wear off. Game lines and logos are painted on the surface after installation. For traditional flooring, this level of customization is only easily attainable through printed gym floor covers, and only for use in non-athletic events.
Modular tiles can even be designed to look like ice or wood. For example, for the look of a more traditional wooden plank gym floor, perhaps for basketball or aerobics, the ProGym Plank is the answer with its wood-like appearance and durable clear wear layer. If the classic look of a gym floor is not the highest priority, there are products like ProGym, which can be used for everything from basketball and volleyball courts to recreation rooms. For areas with heavy equipment, such as weight rooms, you can still have an aesthetically pleasing floor that resists damage from dropped weights and the bases of exercise equipment with something like the rubber SportFloor ProXL.
A Final Comparison Between Wooden and Modular Gym Flooring
Hardwood plank flooring (usually maple) has been used for gyms for as long as most of us can remember. It naturally provides good shock absorption (which is important in preventing injuries) and provides excellent elastic response for sports like basketball and volleyball. Sanding and refinishing is required, but some prefer to see that process as an opportunity to update the look of the gym. In addition, traditional wood flooring is a more environmentally friendly option in the eyes of many because it is biodegradable and comes from a renewable source. In addition, wood is naturally resistant to wear and can last for many years with proper care -- especially when used with quality gym floor covers. Wood flooring does cost more than modular flooring and is limited in what types of activities can take place upon it unless proper floor covers are used.
Modular flooring does not have to be permanent, making it an excellent option for use in temporary facilities. It is not difficult to install and costs less than equivalent wooden flooring. Modular flooring is easy to care for and never requires refinishing. It can be highly customized in terms of color and appearance (even mimicking the look of ice or wood) as well as performance. It can also be used for a wide variety of purposes, not all of which have to be sports related.
Conclusion
Deciding which type of flooring is most appropriate for a sports facility can be a tough decision. Tradition leans to hardwood maple flooring with its familiar appearance, durability, and performance. However, modern technology has made possible modular flooring that can, if needed, mimic the appearance of classic wood flooring while providing customizable performance and flexibility in terms of what it can be used for and what sports it supports. Other considerations include maintenance and upkeep, which is considerably less for modular flooring, and expected lifetime, which is very long for traditional flooring. Just remember that if you do opt for any sport floor, you will need a gym floor cover if you expect it to remain attractive and damage-free.
Written by: Charlie Dwyer, CoverSports