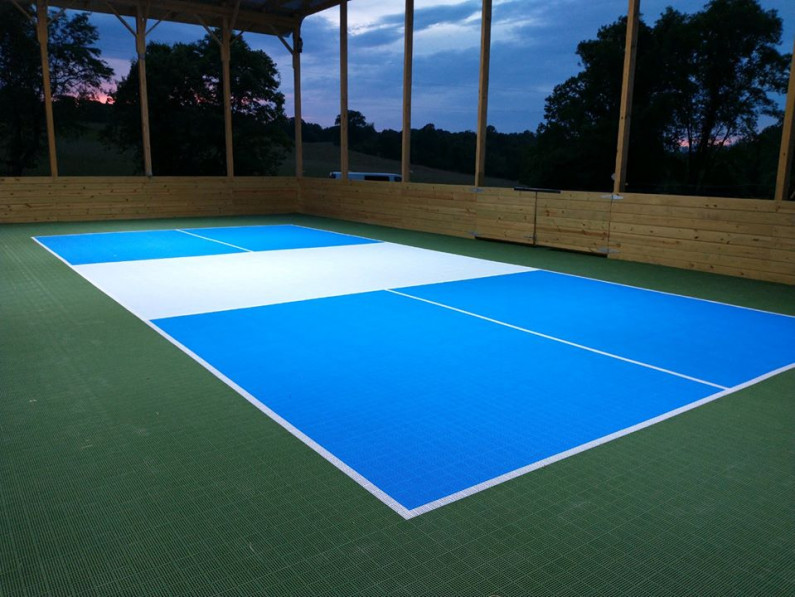 Pickleball!

Pickleball??? What is Pickleball? Is that made up? Is "Pickleball" even a real thing?

These are questions we have fielded at family cookouts, when out with friends, or conversation with neighbors when asked "what type of games are played on Mateflex tiles?".

So, what is Pickleball? Pickleball is a game that combines some familiar elements of tennis, ping pong, and badminton. Using a racket that resembles an oversized ping pong paddle, players rally a ball that most resembles a plastic whiffleball back and forth in a 20' x 44' space that is much smaller and tighter than a standard tennis court to try and get this ball past their opponents. Pickleball is a game that can be played by all ages, and with a wide range of athletic ability. The smaller pickleball court size is attractive to both home owners and municipalities alike, and fits very well on re-purposed tennis courts. While there are conflicting reports how he game got its name, there is no denying that it is catching on like wild fire and sweeping the nation.
Want to bring together your neighborhood, find a game that the whole family can have fun with, or are you looking for a new activity to try with the kids? Contact us to see how we can help you use our Mateflex II pickleball court tiles to achieve this goal today.