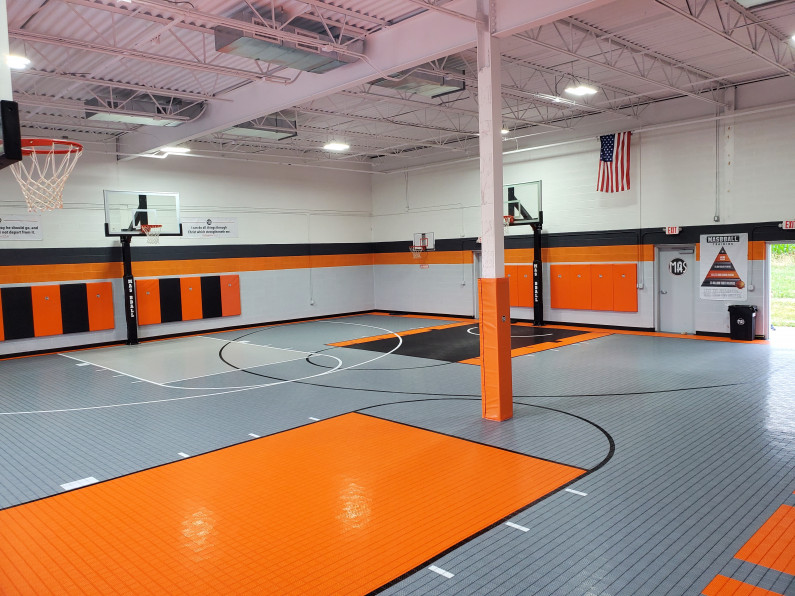 The short answer: Yes!

Mateflex

offers a wide variety of tiles to cover just about any application, from outdoor basketball courts and inline hockey rinks, to indoor garages and basements. One way that we qualify our products is by separating them into two categories, "indoor tiles" or "outdoor tiles". These categories will mainly refer to the top surface of the tile, which can feature either a solid top for a more traditional "indoor" appearance, or a porous top surface that will promote more efficient drainage in a typical outdoor setting. Our outdoor tiles will also feature our patented

Flex

Joint technology, which will help to control expansion issues that can occur when these tiles are placed in the sun.
Being referred to as an "

outdoor

" tile does not necessarily mean that it cannot be used "indoors", however, as a recent customer has shown on display in his indoor basketball gym space seen above. This customers space has moisture issues that would eventually build up on the surface of a solid top indoor tile such as the ProGym or ProGym Plank, and we were able to offer our "outdoor" HomeCourt tile as an alternative to allow for this moisture to easily drain through the tile material. This will help to leave a safe, dry top surface for this customer to play on without water buildup. Much like our outdoor installations, we would recommend pinning the outdoors tiles when used indoors to hold the materials steady.
Unfortunately, the opposite will not be true, as our "indoor" products such as the ProGym Plank and ProGym tiles are not designed to be used outdoors under any circumstances due to their lack of our

Flex

Joints. When placed outdoors, you may see expansion caused by the sun that can damage the vinyl insert of the ProGym Plank, or can cause the ProGym tile to function improperly. For outdoor use, we would recommend sticking with the HomeCourt,

Mateflex

II or Mateflex III tiles, but for indoor courts or garages that may have moisture issues or require drainage, the "outdoor" tiles may be the perfect fit!