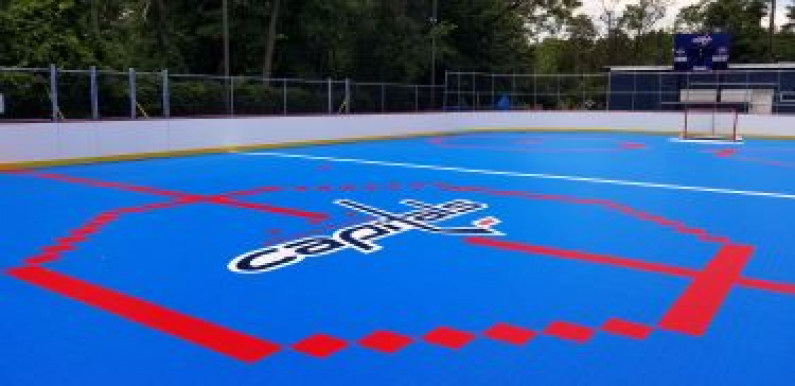 ARLINGTON, Va. - The Washington Capitals announced today the completion of six street hockey rink refurbishments across Maryland, Virginia and West Virginia, marking 10 area rinks refurbished by the Capitals. In addition, the team will execute an additional 5 rink refurbishments during the 2019-20 season.
In conjunction with each rink's grand opening, children ages 8-14 are invited to participate in the Washington Capitals Street Hockey Clinic Series. All participants will receive a free street hockey stick. For more information and to register for the free clinics, click here.
The Capitals used funding from the National Hockey League's Industry Growth Fund (IGF) to renovate the rinks. $1,900,000 was awarded to initiatives focusing the growth and ball and street hockey. Another $894,000 was focused on diversity, which the Capitals utilized to launch a district-wide street hockey curriculum across DC Public Schools, Montgomery County Public Schools and Baltimore City Public Schools. The Capitals contributed an additional $799,000 toward the growth of youth hockey in support of the project. The projects were completed with the support of Capital One.
To further encourage the growth of the game, the Capitals Youth Hockey Development staff will hold clinics throughout the season in conjunction with the refurbishment of each rink
Newly refurbished rink locations include:
Virginia
Seminary Road Rolle
4646 Seminary Road
Alexandria, VA 22304
The Capitals renovated the Alexandria rink at Hammond Middle School by replacing the boards with new Riley manufactured boards and by adding both a Mateflex flooring system and a branded Daktronics scoreboard featuring the Capitals logo.
Dixon Park
1300 Dixon St
Fredericksburg, VA 22401
The rink in Fredericksburg Virginia is a new build that includes a custom Riley Manufactured board system and a NOVA Play II flooring surface featuring the Capitals logo. The rink also features a Daktronics scoreboard with the Capitals logo.
Maryland
Ridge Road Recreational Park
21155 N. Frederick Rd
Germantown, MD 20876
Ridge Road is an existing rink refurbished by the Capitals. The old boards were removed, and the existing metal frame was used. The bench area and doors were adjusted to be ADA compliant by Riley Manufacturing, who then installed their board system. A new Daktronics scoreboard and Mateflex flooring system was installed featuring the Capitals logo.
Dewey Park
11720 Dewey Road
Silver Spring, MD 20906
The Dewey Park rink is a brand-new build and included a custom Riley Manufactured board system and a Mateflex floor featuring the Capitals logo. The rink will also receive a Daktronics scoreboard featuring the Capitals logo this fall.
West Virginia
Oatesdale Park (2 rinks)
Baltimore St & William Street
Martinsburg, WV 25401
The park in West Virginia includes the complete rebuild of two existing rinks that we removed and replaced. Both rinks include a custom ProWall board system from Sports Resource Group, one white and one red, along with a Mateflex flooring system featuring the Capitals logo.