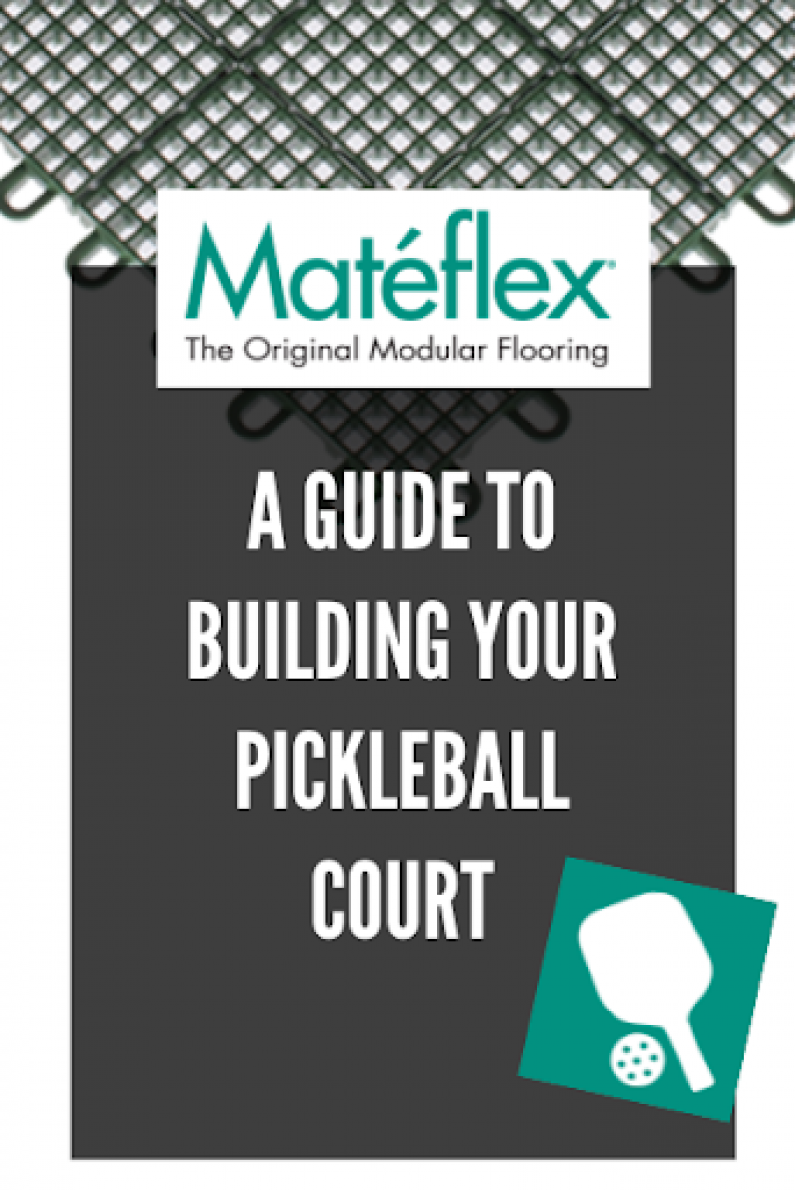 Pickleball Court Construction
Pickleball Court Dimensions
Understanding Pickleball court dimensions is the first step to planning the construction of your pickleball court.
A standard full-size pickleball court is 20 feet by 44 feet for both singles and doubles. In addition to this, you'll want to add additional space on each side of the court to create a comfortable playing space. If you're planning on converting a tennis court, then 30 feet by 60 feet is standard, while 34 feet by 64 feet is ideal for new construction.
Add additional space to ensure a safe distance from other objects such as benches, lights, or additional courts.
Additional space considerations should be accounted for when planning multiple courts, or additional amenities such as fencing, lighting, and storage.
The experts at Mateflex have helped design and construct both single and multiple court designs both inside and outside. For help with your design or planning, reach out to us today.
Pickleball Court Layout
If you're planning on building outdoors, the layout and orientation of your courts are critical. For best results, we recommend orienting your courts north-south to reduce the limiting impacts of sun-glare on players' experience.
At an overall size of 20 feet by 44 feet, each half of a pickleball court has 3 distinct areas.
The first is a non-volley zone or kitchen, which is 7 feet long from the net and stretches across the rest of the playing surface at 20 feet wide. Directly behind that, the remainder of the half is divided into 2, 10-foot x 15-foot rectangles, as pictured below.
Pickleball Court Net
The net of a pickleball court should sit at 36" high on the sides, to a low of 34" in the center. Ideally, the posts for your nets should sit 12 inches beyond the playable surface of your court.
Court Lines
Standard pickleball court lines should be painted white with a width of 2 inches.
Post Foundations
Post foundations shall be not less than twenty-four inches (24") in diameter at the top, not less than thirty inches (30") in diameter at the bottom, not less than thirty-six inches (36") in depth.
Foundations shall be so situated as to provide a clear distance between posts of forty-two feet (42'). Concrete for foundations shall be mixed in ratios of six (6) standard 94-pound sacks of cement per cubic yard of concrete, with one (1) such sack of water, attaining a compressive strength of not less than three thousand five hundred (3,500) pounds per square inch at the twenty-eighth (28th) day after pouring. Foundations shall be so designed and poured and the posts so set as not to cause cracking or other damage to the finished surface.
Net Posts
Posts shall be set plumb and true so as to support the net at a height of forty-two and one-half inches (42-1/2") above the court surface at the net posts.
Center Strap Anchor
A center strap anchor shall be positioned and set in concrete footings measuring twelve inches by twelve inches by twelve inches (12" x 12" x 12").
Pickleball Court Additional Amenities
In your planning phase, you should be sure to consider the additional amenities you'll want to be included in your court. Proper planning ahead of time will reduce delays and additional costs later in construction. Common additional considerations include lighting, electricity, benches, fencing, and storage for player's gear.
The Mateflex Court Builder design tool can be helpful in creating a visualization of your project while planning. With our Court Builder tool, you can select colors for your court, key, lines, borders, and add additional accessories. Start planning the right court for you with the Mateflex Court Builder.
Pickleball Court Construction Site Preparation
After working with our experts to help design and plan your court, the next phase is construction site preparation. Proper preparation is key to the success of your project's construction, the function, and the long-term life of your surface.
Site preparation will vary based on the nature of your pickleball court project.
Indoor sites with pre-existing surfaces often have less initial preparation than outdoor projects. Our team can help guide you through the process of converting your pre-existing indoor space to increase the ease of installation, durability, safety, and life of the product.
Outdoor sites with no existing court in place will require a greater level of preparation for construction. When creating a new site for a court, working with a trusted local expert is a key to early success.
Inspection and Selection
The first step in site preparation is to have the site inspected by the owner, as well as a soil engineer to establish its suitability for the court's foundation. This early stage will dictate if additional steps or adjustments to the initial plan need to be made.
Clearing and Excavation
Outdoor areas need to be cleared and excavated to a depth of at least 12 inches. This step is essential to ensuring the long-term life of your playing surface. Trees, vegetation, and roots need to be removed from the site, and the soil needs to be sterilized to inhibit future growth that will disrupt the court surface over time. Excavation to a greater depth may be necessary to provide the right finished height of the asphalt or concrete subsurface.
Fillings
Based on the results of your initial inspection, soil conditions must be adjusted to be suitable for subsurface installation. Fill material must be placed in layers not exceeding six inches in thickness, and need to be compacted to 95 percent standard density at optimum moisture.
Drainage & Slope
Proper drainage is essential to maintaining the subsurface, short-term use, and long-term life of your court. Drainage should be interconnected and empty into a drain away from the playing surface. A peripheral drainage system may be necessary to intercept and drain surface and subsurface water away from the court system.
Creating the proper slope is essential to maintaining an efficient and effective drainage system. The court should slope at a grade between 1% and .83% in one direction to direct rain off of, and away from the playing surface and subsurface.
For more information on subsurfaces see our guide to selecting the proper subsurface for a pickleball court.
What Is The Best Surface For A Pickleball Court
If you're looking for the best surface for a pickleball court, Mateflex II interlocking tiles offer a number of distinct advantages over other playing surfaces.
Ease Of Installation
Mateflex interlocking floor tiles offer the benefit of being easier to install when compared to other pickleball court surface options. The interlocking tiles are 12" x 12" x ⅝", high-impact polypropylene, with 32 snap-together latch locks. Construction is fast and easy with pre-painted kits created in-house to your unique specifications.
Cost
Modular tile options are often a less expensive option compared to asphalt or concrete playing surfaces. Cost savings multiply when factoring in reduced installation and maintenance costs.
Durability
Our high-impact polypropylene tiles are strong and durable with support up to 16,000lbs per square foot. Over time the increased durability of our tiles creates longer life, lowers cost, and increases the quality of play over standard court surfaces such as asphalt or concrete. Resistance to fungus and mildew creates a longer-lasting and more enjoyable surface for a longer period of time.
Warranty
Our courts are backed by a 15-year limited warranty. Create a safe, long-lasting, and enjoyable playing experience with the comfort of knowing the quality of our product is backed by our team and reputation as the original modular tile sports flooring manufacturer.
Versatility
Unlike other surfaces our tiles are versatile enough to be used for multiple sports, lending your courts greater versatility. Mateflex II is the perfect choice for Tennis, Pickleball, Ball Hockey, Basketball, Shuffleboard, & other backyard courts.
Safety
Our modular flooring is a safe choice for play. Our tiles are designed to dry faster in wet conditions, expand and flex with variations in your subsurface, and control thermal expansion.
Comfort
Mateflex II features leaf spring flex joint technology, creating give to reduce muscle stress without the loss of responsiveness.