Matéflex Modular Flooring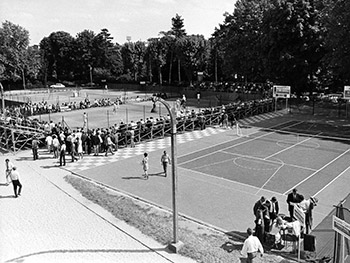 At Matéflex we know sports and flooring. That's why we engineer all our state-of-the-art sports surfaces for peak performance and near bulletproof durability. Our modular floor tiles are portable and extremely low maintenance. And that's not all – these interlocking floor tiles are affordable and easy to install.
We Were the First, the Original
Matéflex is the oldest U.S. modular tile manufacturer. We've been doing this since 1974 and we keep finding new ways to do it better.
We Sweat the Details
Attention to detail and dedication to rigorous standards make our snap-together tiles a high quality solution for all sports surfaces. We oversee all aspects of the manufacturing process, so we're on the front lines when it comes to quality control. As a floating flooring manufacturer, we're committed to using the finest materials, and continually refining the manufacturing process to achieve the highest possible standards.
Functionality
It all adds up to highly functional, specialized flooring solutions brought to you by America's premier manufacturer of modular flooring. Matéflex is an excellent choice for any sports flooring or specialized flooring application—from your gym floor mats to your pickleball court, volley ball court, or basement floors.